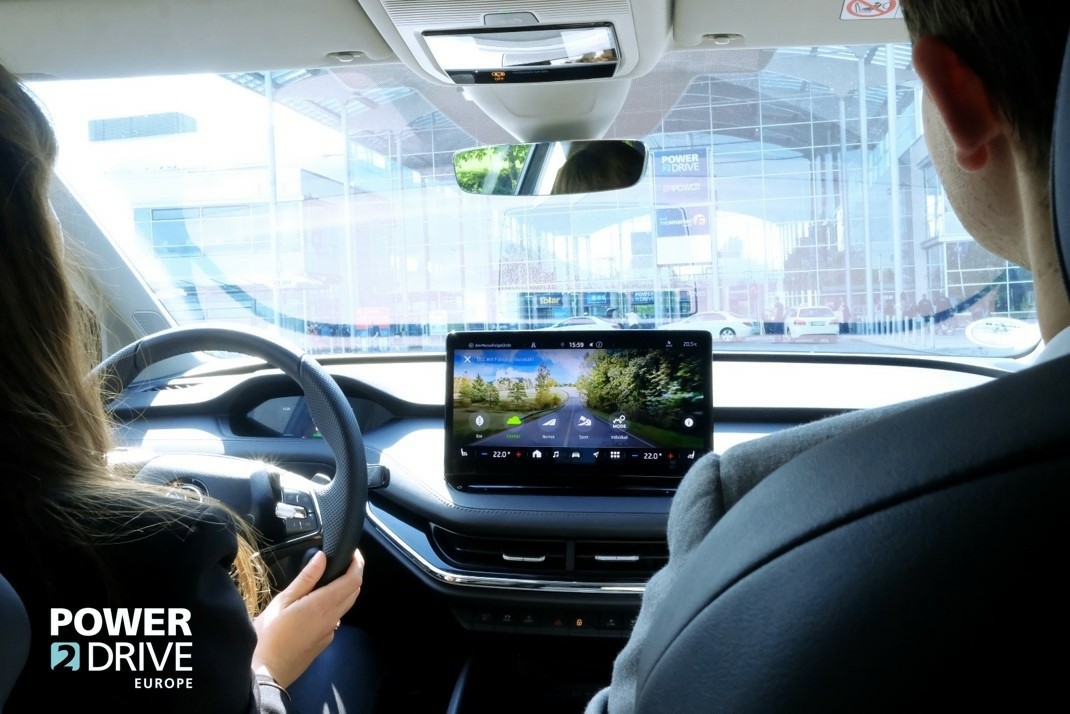 There is huge interest in solutions for e-mobility and charging infrastructure: The exhibition space had already been extended to two halls covering 13,000 square meters – and now it is almost fully booked. There are just a few places left at the joint booths of the German Federal Association for eMobility (BEM), the European Association for Electromobility (AVERE) and in the start-up area. At the June event, there will be more test and demonstration spaces outdoors. Last year, trade visitors had quickly booked all the spots on the eCar Test Drive, where Skoda launched the ENYAQ as an exhibition premiere in Germany, among other attractions. This year, there will be additional options for test driving last-mile electric vehicles and light commercial vehicle for daily use, such as nippy transporters or cargo bikes in the outdoor area.
Charging solutions and solar roofs
The Power2Drive Europe outdoor area offers hands-on experience of products and services across 4,000 square meters. This shows that electromobility works and has already become established. Charging solutions for fleets and smart solutions for combining low-cost renewable power generation and sustainable mobility will be showcased here. At the outdoor area, installers, planners, fleet managers, companies, charge point operators (CPO) and electromobility providers (EMP) can see for themselves what's possible.
See also: Europe leading in electric vehicles
Another focus area are solar roof covers for parking lots. Several German states (Baden-Württemberg, North Rhine-Westphalia, Lower Saxony and Rhineland-Palatinate) have been leading the way: Instead of waiting for an EU regulation, they have already decided that new, open parking lots from 35 to 100 spaces upwards (this number varies between the states) are obliged to add a solar installation. France, too, is going to introduce a nationwide law requiring solar installations to be built over parking lots. Photovoltaic installations on carports are also an interesting option for private households because if carports are legally rated as building structures, the PV power produced can be remunerated on the basis of the higher building remuneration according to Section 48 (2) Renewable Energy Sources Act (EEG). According to reports from installation companies, many companies and real estate owners are now opting for the cost-efficient combination of PV with a charging solution.
EVs as mobile energy storage units
Power2Drive Europe 2023 will also be offering a stage to Vehicle2Home/Building (V2H/V2B). Real estate owners who e.g. use their roofs for generating solar power store the electricity in their vehicle and return it to the building when needed. This turns electric vehicles into mobile energy storages to help cover the energy demand of the home or the commercial operation – with a positive overall effect on the energy system. The intelligent coordination between electric vehicles, charging infrastructure and energy systems (Vehicle2Grid, V2G) can help boost grid stability and supply security.
This approach is promising and allows utility companies to offer e-vehicle owners a share in the profits. This works by charging solar power from the grid when the price is low, and to feed the electricity back into the grid at times of peak demand or during temporary peak load. The market ramp-up of V2H/V2B is imminent, and at Power2Drive Europe 2023, companies will be presenting solutions to make it possible. Watch out for exhibitors such as Alfen, CHAdeMO Association, FLEXeCHARGE, myenergi, The Mobility House, Workersbee Energy B.V. and Wallbox Chargers.
Spotlight on charging stations and wallboxes
More and more e-car models are pushing into the market – and the same goes for charging stations and wallboxes. The number of suppliers offering ever new products is growing. Power2Drive Europe 2023 will provide an overview of what's happening. Renowned manufacturers such as ABB, ABL, EnerCharge, Keba, Mennekes and Vestel will be there. If you would like to inform yourself before the event, we recommend the Power2Drive "Market Overview Charging Infrastructure", which has been published in collaboration with cosmix. The publication gives an independent rundown of more than 260 products by 87 national and international manufacturers.
Also interesting: An electric bus fitted with integrated solar modules
2023 will also see the launch of the Power2Drive AWARD for innovations in the area of e-mobility and charging infrastructure. The award will be shining the spotlight on products and services for electromobility and charging infrastructure, bidirectional charging solutions, mobility services and software solutions. Companies can now enter their applications for the Power2Drive AWARD. The finalists and winner will be selected by an international panel of industry experts. For more information about the award, general terms and conditions of participation and how to apply, click here.
Power2Drive Europe 2023 will be held from June 14–16 as part of The smarter E Europe 2023 at Messe München.