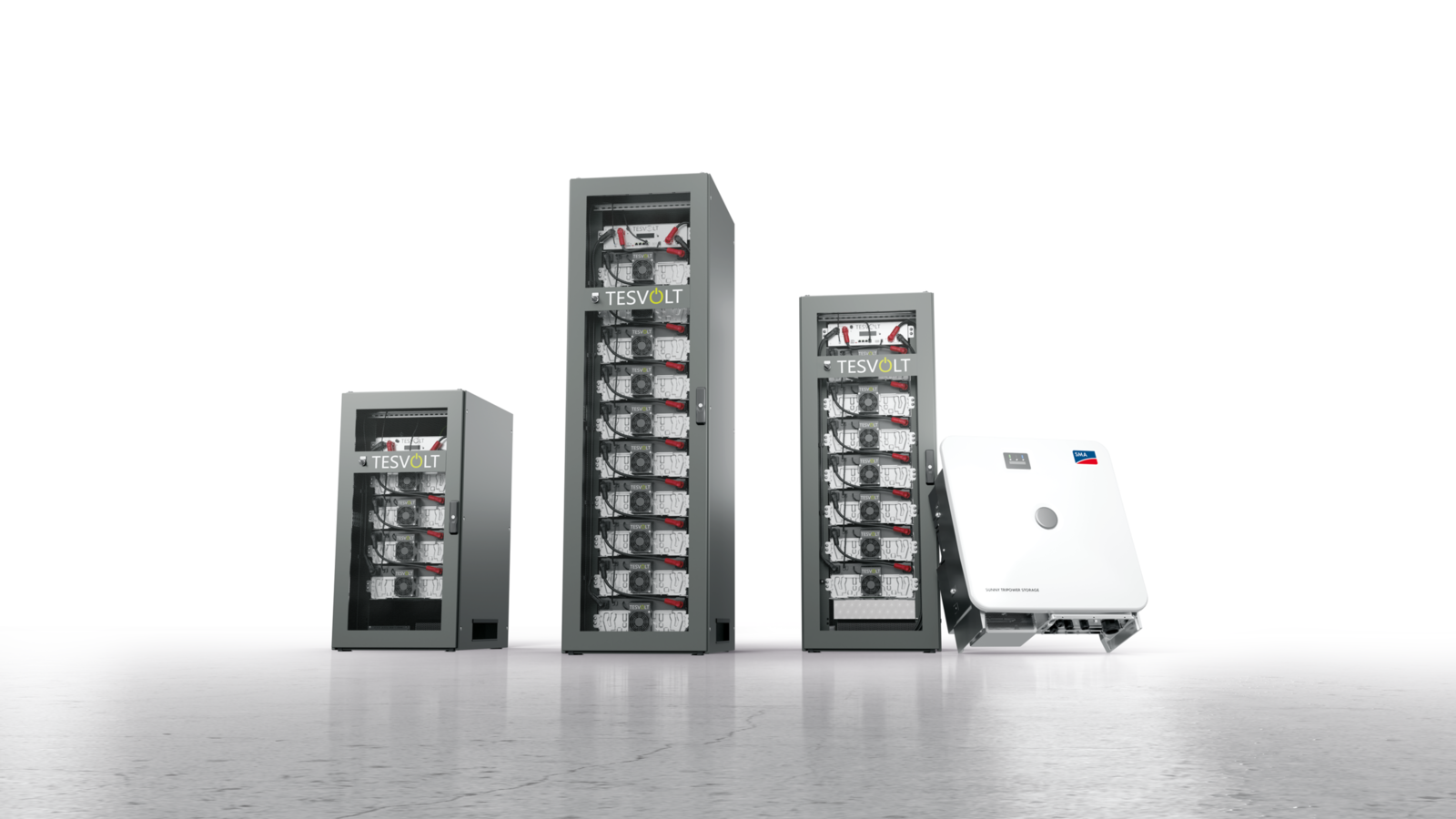 The new products are optimised for the needs of commercial enterprises – from small bakeries to large manufacturing companies – and are more safe and durable. From system configuration and commissioning to after-sales support, installers have full digital access to all services.
The new generation of storage systems consists of the TS HV 30 E, the TS HV 50 E and the TS HV 80 E. The efficient high-voltage storage units are easily scalable. Combined, they achieve a total energy of up to 5 megawatt hours. The new three energy storage systems also incorporate advanced Tesvolt battery modules, each with 22 Samsung SDI cells of the latest generation.
The high energy density of the battery cells makes these storage systems especially economical. New features include the Sunny Tripower Storage X three-phase battery inverter from SMA, which ensures even faster reaction and control times as well as a broad usable DC voltage range. And the energy storage systems can now be combined with two different energy management systems: the Basic or Pro model. Tesvolt offers a 10-year guarantee for system and performance with the new storage systems.
Smart charging station control
The Pro model of the energy manager allows the user to control and prioritise up to 25 charging points. For example, customers could be granted prioritised access to parking spaces over employees. Another example is the capability to configurate a charging point in such a way that it uses only green electricity from a photovoltaic system.
See also: Tesvolt builds a second gigafactory
The three new storage units, just like the preceding Tesvolt systems, will be certified by TÜV Rheinland for functional safety, among other things, making them among the safest on the market. These exceptionally high safety levels are driven partly by the design of the battery cells: prismatic cells are considered to be the safest lithium-ion cells. At a system level, Tesvolt's battery management system monitors the voltage of each individual cell. The whole system is therefore subject to constant plausibility monitoring. In case the normalised range is exceeded, the system automatically switches to a safe state.
It's all digital
Tesvolt offers its installation partners all services digitally. The installer can plan the storage system project, configure the storage system, and order it all online in the Partner Portal. The storage system can also be commissioned digitally; thus, the installer can simply scan the components on-site using QR codes. In the Partner Portal, every step is explained with "How to" videos, and personal advice is also available via the hotline. (mfo)