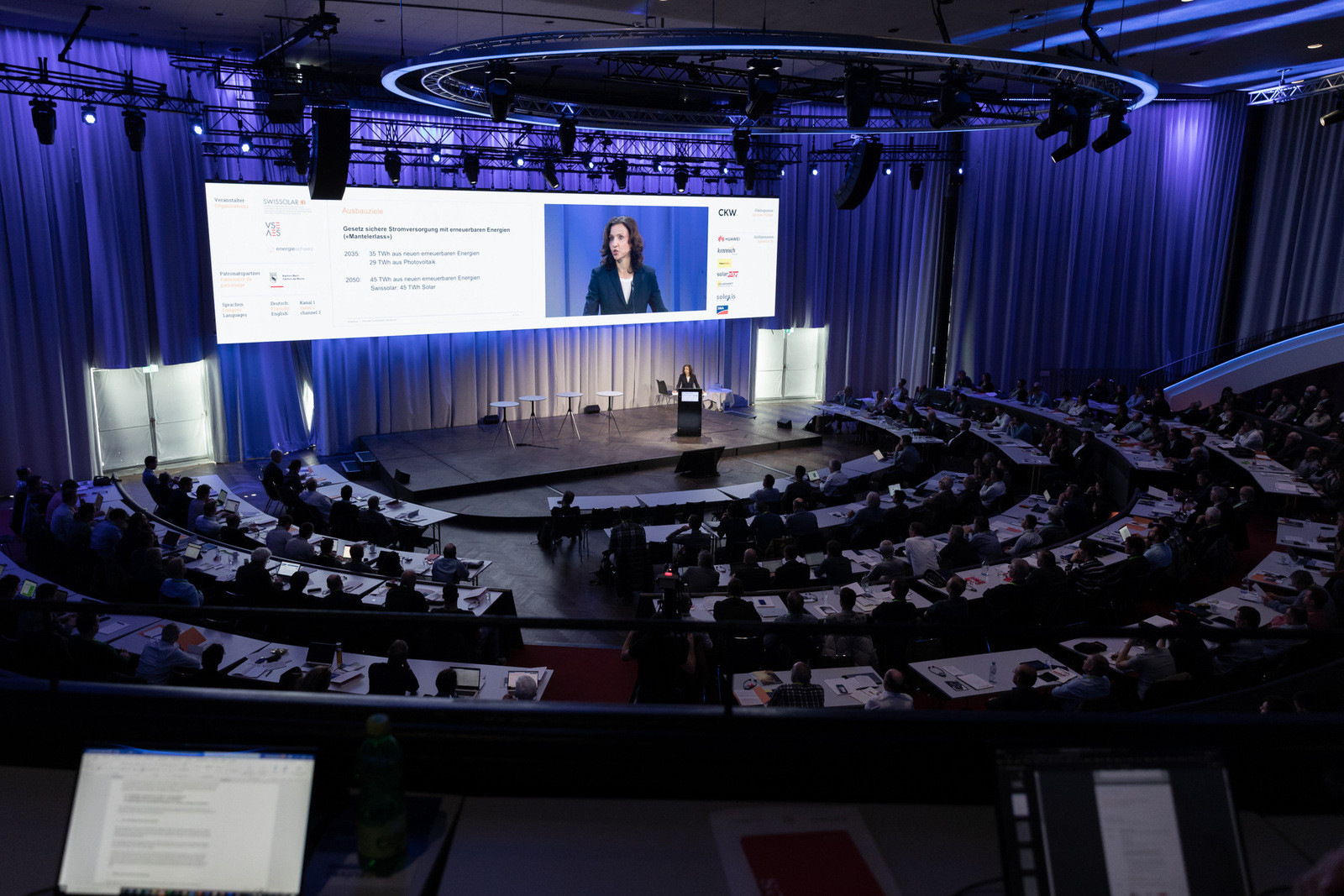 The Swiss solar industry has recorded annual growth rates of over 40 per cent since 2019. The new systems installed last year supply around one terawatt hour of additional clean electricity per year, bringing the share of solar power in Swiss supply to over seven per cent. Strong market growth is expected again in the current year. The goal is to achieve an annual increase of more than two terawatt hours.
Photovoltaics needed on roofs and facades
"The solar industry sees the way forward in an accelerated expansion of photovoltaics on roofs, facades, infrastructures and large-scale alpine plants, combined with the use of other renewable energies as well as efficiency measures," says Swissolar President Jürg Grossen. Already today, solar plants supply more than seven per cent of the annual electricity demand.
See also: Renewable winter electricity from the Alps
National Councillor and Swissolar Vice-President Gabriela Suter explains at the conference how an intelligent interplay of hydropower, solar and wind energy, as well as an increase in electricity efficiency, can achieve a secure and clean winter electricity supply: "With the rapid market growth of photovoltaics, hydropower is relieved during the critical winter months, as the reservoirs do not have to be emptied as quickly," explains Suter. Because at the time of their low in March and April, the solar plants are already running at full speed again. In addition, interest in alpine solar power plants is increasing rapidly following the urgent federal decision in autumn 2022.
Supply bottlenecks for components
The rapid market growth is a major challenge for the industry in Switzerland. According to the conference, supply bottlenecks of components are less serious than last year, but the need for skilled workers continues to be a challenge. Several initiatives for the vocational training of specialists will be presented at the conference, including the vocational apprenticeships initiated by Swissolar and offered from autumn 2024. "We also need to open up attractive paths for people changing over to the solar industry to be able to work in it," emphasises Swissolar CEO David Stickelberger.
Reducing solar dependence on China
The focus is also on Switzerland's role in rebuilding a European solar industry. Today, a large part of photovoltaic components comes from Asia. This dependence is to be reduced. While in the USA a new support programme is being launched to build up the country's own solar industry, in Europe there have only been declarations of intent so far. This must change quickly. "Meyer Burger is the only mass producer of solar cells outside Asia," emphasises company boss Gunter Erfurt. The important innovations in photovoltaic cells have always been developed in Germany and Switzerland. All current cell concepts come from Europe. This is another reason why development work is so important. Erfurt: "We should use this for the renaissance of solar energy in Europe." This will not only benefit the Asians and the USA with their new support programme, but also Europe itself. Erfurt sees the market in the DACH region alone for Meyer Burger's new roof tile at two gigawatts of output. (nhp/mfo)