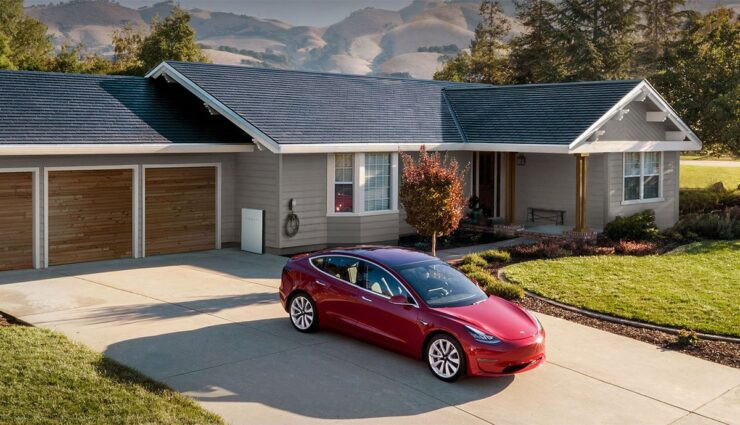 The solar roof of e-car pioneer Tesla attracted a lot of attention after its introduction in 2016. It is a glass tile roof system with embedded photovoltaic cells. "However, granular installation data has always been hard to find, making it difficult to analyse the growth of the product – until now," Max Issokson exults. He is a research analyst and lead author of the Wood Mackenzie report, Tesla Solar Roof Deployments Miss Expectations.
23 installations instead of 1,000 per week
Wood Mackenzie's Distributed Solar Energy Division used its own project-level data to aggregate solar roof installation numbers for the first time. "The analysis shows that Tesla has missed its stated growth expectations," Issokson reports. Tesla had set a target of producing 1,000 solar roofs per week by the end of 2019, and subsequently announced an installation target of 1,000 solar roofs per week for early 2020.
Wood Mackenzie's analysis shows that average installations per week in 2022 were only 21, and the largest quarter for installations was Q1 2022, when 32 systems were installed per week.
See also: First projects with new solar roof tiles by Meyer Burger
With an estimated five million roofs built each year across the country, solar roofing holds less than 0.03 per cent of the total roofing market in 2022, according to Wood Mackenzie's findings. And Elon Musk's solar roof has competition: GAF Energy sells a so-called Timberline solar roof system directly to its roofing customers.
GAF Energy: The competition never sleeps
"Other products could take the lead in building-integrated solar roof products. The Timberline solar roof system is better positioned to gain widespread acceptance, he said. The product is faster and easier to install," Issokson knows. The future potential of Tesla's solar roof will depend on the company's ability to simplify and streamline installations and tap into a broader customer base," the analyst concludes. (nhp/mfo)
Also interesting: Cologne-Bonn Airport invests 2.5 million euros in solar