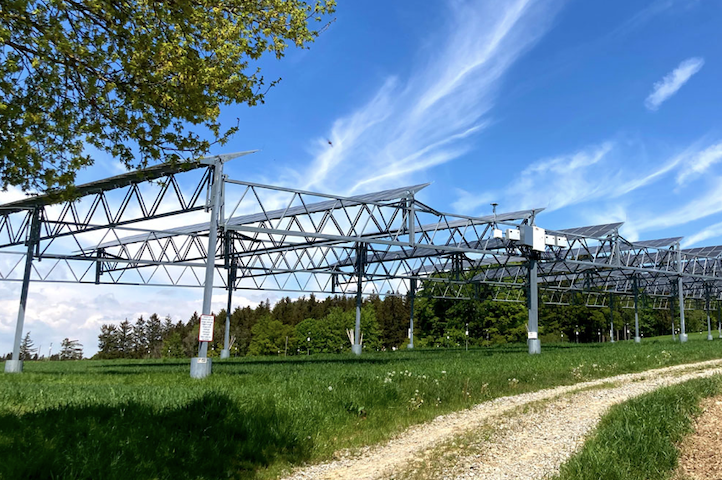 In order for the technology to make its full contribution to the energy transition, the German government urgently needs to remove the last hurdles, scientists demand in a position paper. In its assessments, the working group relies on the expertise of a network with 19 members. Among them are the University of Hohenheim in Stuttgart, Fraunhofer ISE and Geisenheim University.
Efficient plants financially unattractive
The agri-Photovoltaics Accompanying Research Working Group criticises the fact that it is precisely the efficient variants that are disadvantaged in terms of subsidies. The experts see an urgent need for correction so that the technology can develop its potential in practice. This is especially true for elevated systems. They have special synergies, as farming can continue under the solar modules. However, mainly due to increased steel prices, these high elevation systems are more expensive than ground-mounted models.
See also: THI students construct innovative agri-photovoltaic system
Since the current subsidy does not take these differences into account, the models compete with each other. The comparatively high costs stand in the way of a breakthrough for the particularly beneficial, high-mounted plants. "These plants can make a significant contribution to the energy transition. For this, they urgently need the prospect of adequate funding," says Professor Andreas Schweiger, head of the Department of Plant Ecology at the University of Hohenheim.
Privilege agri-PV in the Building Code
Unlike all other renewable energies, agri-PV plants are not considered privileged building projects. This means that a development plan by the local municipality is necessary. Often, the land use plan has to be changed first. These procedures take a long time and delay the development of the plants.
Also interesting: Commerzbank finances huge agri-photovoltaic plant near Berlin
Agri-PV systems in agricultural or horticultural enterprises should be treated as privileged under the Building Code, the working group demands. Such privileged treatment would make it easier and quicker to obtain permits. In addition, there is a need for digitalisation of the approval processes. (nhp/mfo)