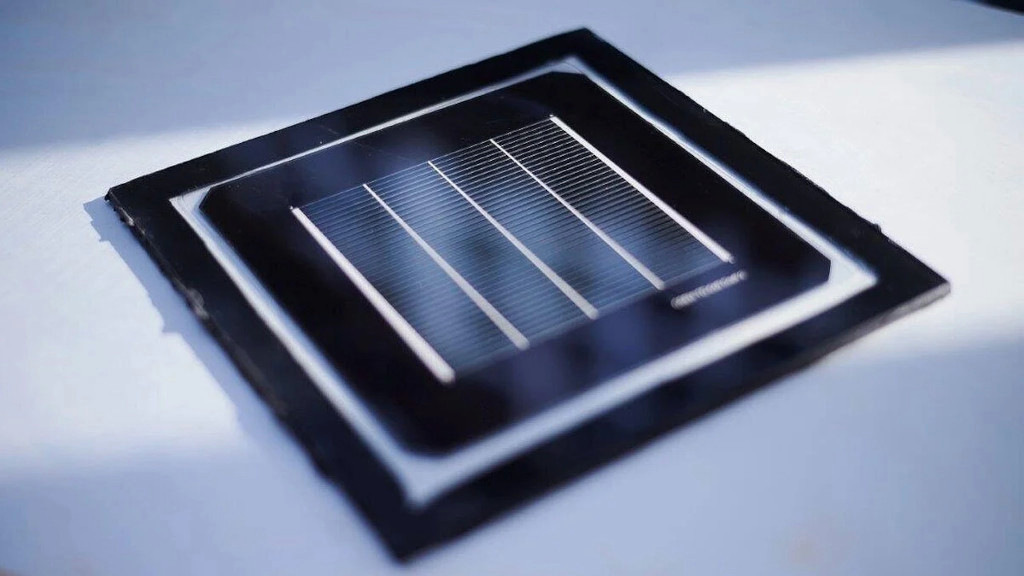 Together with researchers from various institutes, module manufacturer Meyer Burger is tackling the industrialisation of the next generation of solar modules. These are based on the previous crystalline silicon technology. But to increase efficiency, a layer of perovskites is added to the solar cells. These are metal halide semiconductors that are applied to the normal cell and use the light in the entire visible and around infrared spectrum to produce electricity.
Modules with over 30 per cent efficiency
In order to further develop this so-called tandem technology to the point of mass production, the company has entered into a cooperation agreement with the Centre Suisse d'Electronique et de Microtechnique (CSEM) in Switzerland, the Helmholtz Centre Berlin (HZB), the Fraunhofer Institute for Solar Energy Systems (ISE) and the University of Stuttgart. The goal is to manufacture modules and solar cells with an efficiency grass of over 30 per cent in industrial production.
First own technology developed
The development of the new production technologies is to be used exclusively for Meyer Burger's own production in its proprietary business model. "Based on many years of in-house developments, Meyer Burger has a comprehensive portfolio of processes, technologies and production techniques for its own potential mass production of tandem solar cells and modules," explains Marcel König, Head of Research and Development at Meyer Burger. "This includes the essential manufacturing processes and machines for silicon-based perovskite tandem solar cells and corresponding solar modules with Meyer Burger's proprietary Smartwire interconnection technology. Combined with the expertise of our scientific partners, this is a unique key to success," he is certain.
Building on existing solutions
In their further development, the cooperation partners are thus building on existing structures. After all, the basic approaches already exist. Meyer Burger has already worked with Oxford PV on perovskite tandem cells in the past and developed its own proprietary technology solutions. Even in the industrialisation of perovskite technology, Meyer Burger is recording initial successes together with its partners. For example, CSEM and Meyer Burger were able to achieve a record efficiency of 29.6 per cent for a perovskite tandem solar cell with a size of 25 square centimetres.
See also: Perovskite stacks increase energy yield
For this, the Swiss researchers combined heterojunction silicon cells with perovskite structures. "This excellent result shows the potential of silicon perovskite tandem cells to achieve high efficiencies. Even though there is still a lot of work ahead of us, the industrialisation of solar cells with an efficiency of over 30 per cent is on the right track," Christophe Ballif, Director Sustainable Energy at CSEM, is certain.
Record efficiency achieved
HZB has also been working on the technology for some time and has actually achieved a record efficiency of over 31 per cent for perovskite tandems on a laboratory scale. Now these efficiencies are also to be achieved on larger cells and with modules. However, a stable industrial manufacturing process and high reliability of the modules are important for this. "The goal is for perovskite silicon modules to match the high standard set by classical silicon technology in terms of reliability and durability," says Andreas Bett, Institute Director at Fraunhofer ISE. (su/mfo)