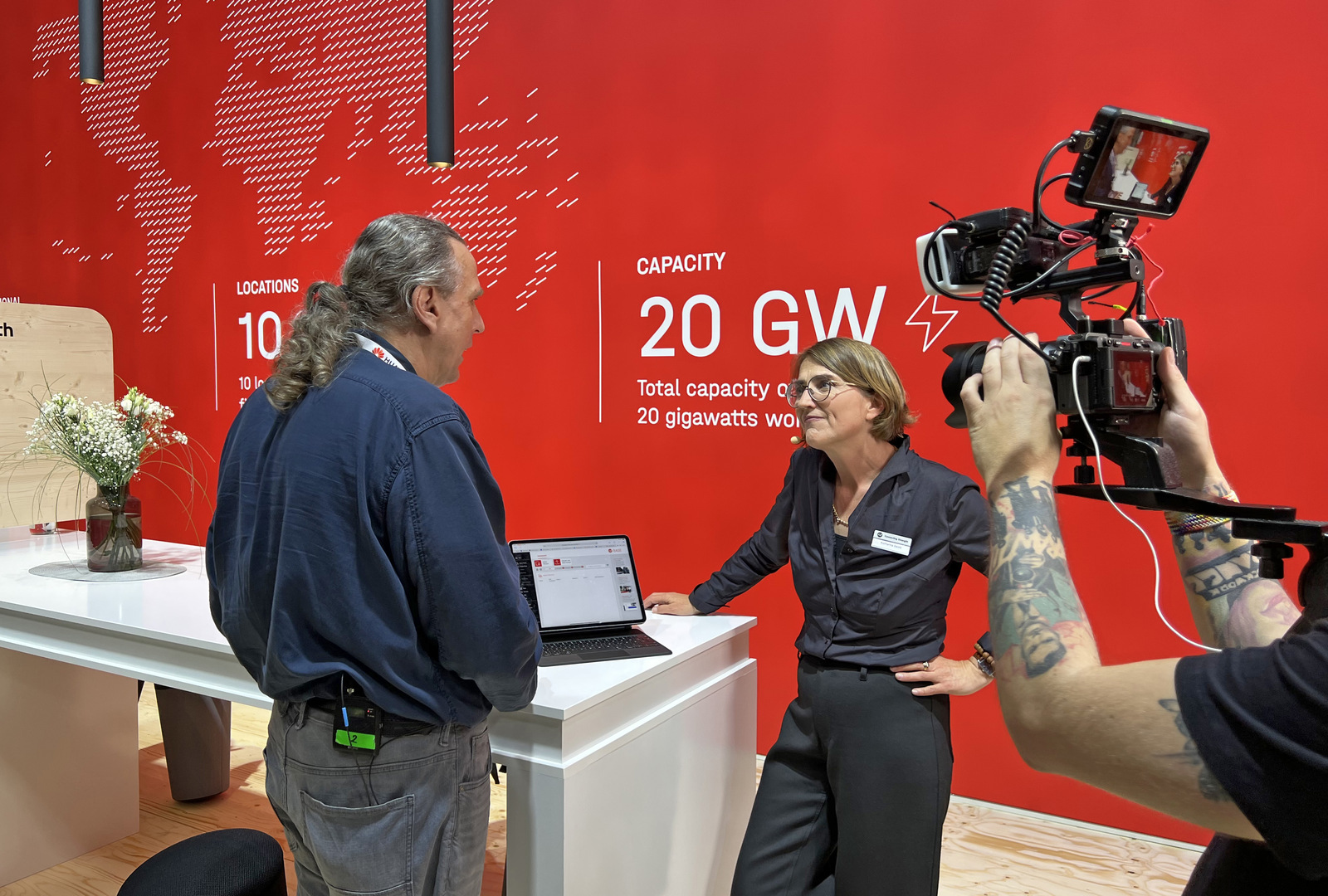 What features does K2 Systems offer to make assembly systems even simpler?
Simpler means that the installation must be easy to assemble so that our customer can install the required systems quickly and reliably. We achieve this with our modular principle. Our components are compatible with each other and cover different applications. This not only saves storage space, but the tradesman works with the same basic components every day, with simple, recurring assembly steps.
Can you give us a specific example?
One example is our Dome 6 flat roof system. This allows customers to mount the modules on one or two sides, with an inclination of zero, ten or 15 degrees, with or without a fixed connection, with or without certified fall protection, with corner clamps or, for large modules, with quarter clamps . It provides a system for different applications, always with the same components for easy assembly.
In addition to flat roofs, it is increasingly important to use green roofs for solar power. What solutions have you developed for this?
Our new Tiltup Vento system is used on green roofs, among other things. These are required in Switzerland, for example. This system is also suitable where – as is now prescribed in some states – roofs can no longer be built with foil. Instead, they have to be greened. The system is simple and standardized. In addition to the flat roof, it can also be used as a small ground-mounted system.
What expectations do your customers, the installers, have?
In one sentence: They expect simple, easy-to-assemble mountings from us that can be planned quickly and reliably. And that is what we offer. Because our mounting systems cover all areas of application on pitched and flat roofs. The components of our kit are compatible, functional, easy to handle and work with. They are made of high-quality aluminium and stainless steel, and are regularly tested and certified externally and internally using various test methods and calculations.
The quality of the products is essential for solar installers, that's true. On the other hand, customer service must also be right so that the installation can run smoothly. What support do you offer installers if they have questions or problems?
Just as important as the product quality is our K2 service promise with personal advice on the phone, on site, via Whatsspp or in our regular webinars. All instructions, tips and tricks can be found in our digital product catalogue and in our many videos. We have daily digital consultation hours on different topics. Our customers can get in-depth information on our knowledge platform K2 Training.
Do you also help the installers with the planning of the installation, i.e. before they get up on to the roof?
Those who install K2 receive lots of support with our digital services, such as our planning software K2 Base. This allows customers to plan a suitable assembly system in just a few steps, including an item list, assembly plan and static validation. Or with our K2 Docu app, which makes project documentation easier for customers and supports them in registering market master data with the system operator.
How can one save time and money when preparing for the installation?
Planning is everything. Anyone who knows the components and the assembly steps, has made a precise design in K2 Base and has made all the other preparations will also be efficient afterwards. Digital tools are becoming increasingly important for this, because our customers must be able to concentrate on their core business – the installation of the systems.
Especially since the bureaucracy is becoming more and more complex, devouring more and more resources…
Exactly, otherwise the necessary expansion of photovoltaics will come to nothing. That's why it's so important to us to offer easy-to-install fasteners with digital support for fast, reliable and easy installation.
Are you in talks with the installers when it comes to the further development of mounting technology?
In order for us to support the installers optimally, we asked about sticking points very early on and started to support the installers, for example with planning. Afterall, with a photovoltaic system it is like construction processes in general: Many individual steps have to work together. With our K2 Base planning software, we succeeded in doing this.
K2 Base integrates all components of the solar system, from the module to the inverter. How do you integrate the providers of these components?
We also started very early on to create a digital interface with the manufacturers of inverters in the planning tool. Therefore, the installer can plan 24/7, receives static validation and parts lists. If he has material from K2 in stock, he can schedule his next construction sites well without being dependent on further deliveries.
Is K2 Base already widely used? What is your experience with it?
Our customers plan around 60,000 projects per month using K2 Base. The software is easy to use. In the end, the installer gets everything he needs – from the assembly plan to the static validation and the complete parts list.
Which data does the installer need first?
At the beginning he enters the address. With the help of Google Maps, he immediately finds the building. Then it's a matter of planning the mounting system, from anywhere in the world, 24 hours a day, seven days a week. He lays out our assembly systems in just a few steps. The software determines the corresponding loads and takes all project-specific properties into account. This is now even easier for larger installation companies, who can share and edit projects with each other via their company account.
How is K2 Base linked to other components, such as the inverters?
And with the K2plus feature, the customer sends the project data directly to the planning software of inverter manufacturers such as Solaredge, SMA, Fronius and so on. Not having to enter the same data multiple times saves valuable time!
What did you bring to Intersolar in Munich this year?
We as K2 are growing enormously and came to Intersolar with a new claim: Connecting Strength. We see ourselves as the strong link between energy generation and the building. We see the many partnerships with other manufacturers and industry players as a connecting strength in order to drive the energy transition forward together. Another important point is our digital services, for which we are now known in the industry. In addition, we have increased our delivery capacities in order to be able to continue to deliver. Installers can rely on K2. (HS/mfo)
Watch the video with Katharina David here.
Watch all our CEO-Talk with decision makers of our industries.