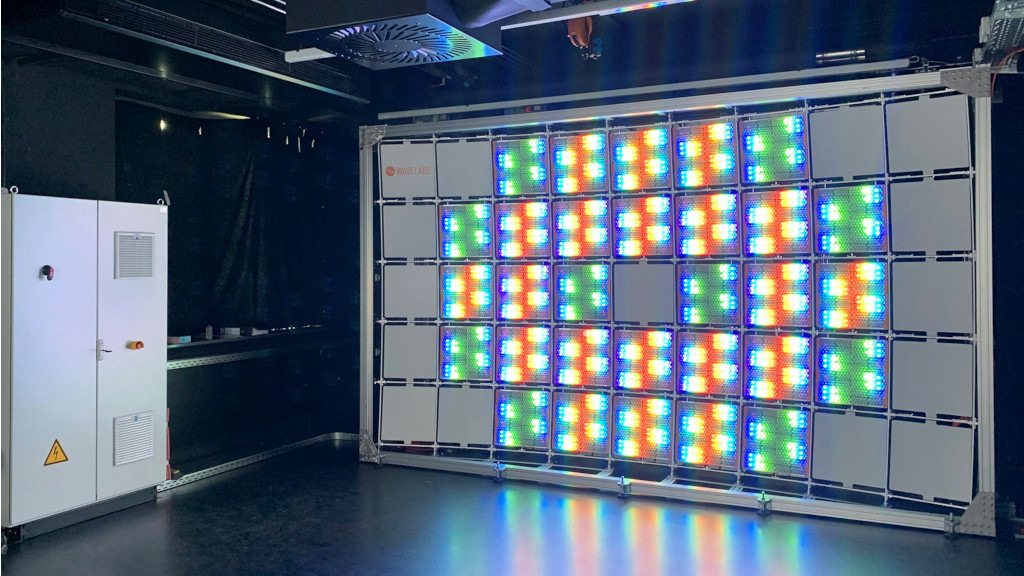 The researchers of the Cal Lab PV Modules at Fraunhofer ISE have developed a solar simulator with which they can calibrate tandem solar cells with perovskite semiconductors in combination with a silicon base. With the new simulator, they can measure solar cells on a laboratory scale of five by five millimetres as well as entire modules up to a size of 2.40 by 1.30 metres and determine their efficiency.
Adjusting light spectra
The simulator has 28 different spectrally adjustable light channels, distributed over 40 light sources with a total of 18,400 LEDs. This allows the developers to reach a very wide wavelength range from 320 to 1,650 nanometres. The development was not easy. "When building the solar simulator, we had to ensure on the one hand that the LED illumination illuminates the modules homogeneously over the entire surface and on the other hand make their light spectra adjustable so that all cell layers are activated realistically," explains Falko Griehl, project manager for the Sinus 3000 Advanced solar simulator at Wavelabs Solar Metrology Systems.
Illuminating all cell layers
The company built the simulator based on the development of Fraunhofer ISE. "With this technology, beyond the standard spectra, we can also simulate the light at any time of day and region, so you can investigate their influence on tandem modules" says Griehl. This is particularly necessary when measuring tandem solar cells.
See also: Fraunhofer ISE shows flexible solar cells without busbars
"This is because all cell layers must be illuminated by different light sources under conditions as exact as possible under which they would also produce electricity in sunlight, in order to then be able to make statements about the efficiency of the entire cell and module," explains Martin Schubert, head of the project at Fraunhofer ISE.
Also measure tandem cells with other materials
From 2024, the heat generated by the longer illumination during a module characterisation will be compensated by an additionally installed climate chamber in which the tandem solar cells and the modules manufactured with them will be placed for the measurement. In the next step, the researchers want to use the solar simulator to additionally develop a test procedure for the perovskite silicon tandem technology. The simulator also enables the characterisation of multi-junction solar cells and modules with such cells made of other materials. (su/mfo)
Also interesting: Fraunhofer IPA develops dismantling process for batteries from EVs