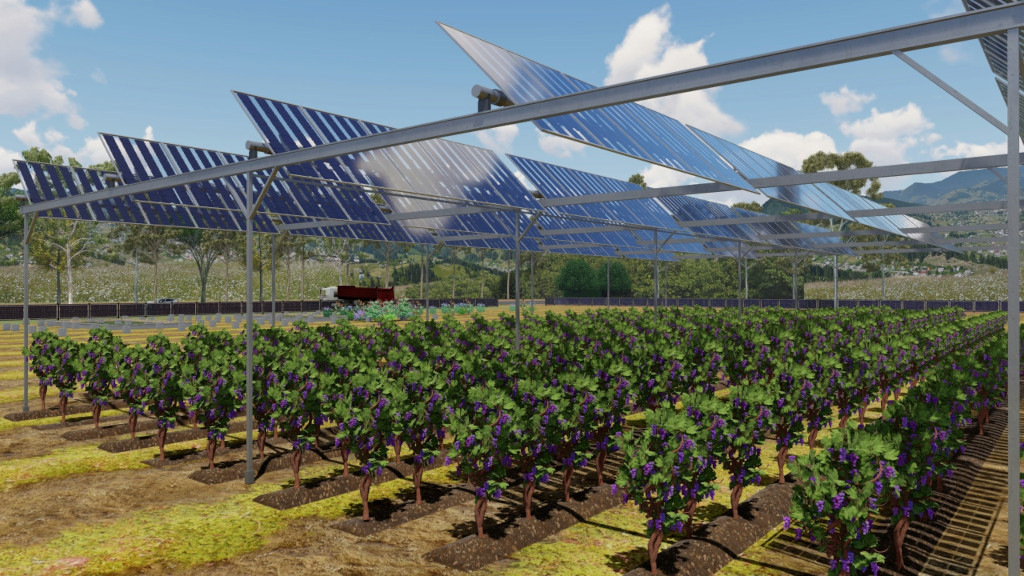 Gridparity, a provider of various agriphotovoltaics systems, is planning to build several plants in Italy. The main focus here is on systems that replace previous film canopies with solar modules and thus protect berries, pome fruits and other sensitive fruits such as kiwi, pomegranates, passion fruit, bergamot, pears and apricots from severe weather conditions.
Integrated water management
A central element of this plant is water management. This is particularly important in the northern regions of the country, which are currently swinging between drought and floods. But it is not only fruit and vegetable cultivation that is at risk. Late frosts, hot spells, extreme drought also endanger the sensitive vines of the wine regions – not only in Italy. That is why Gridparity has developed a system especially for winegrowing.
Protection even against night frost
This system is based on Gridparity's experience with similar solutions in fruit growing. Erich Merkle, Managing Director of Gridparity, emphasises that the expenses for protection against climate damage in viticulture are already a considerable cost factor today. Nevertheless, reliable protection against hail, heavy rain or excessive heat is usually not achievable.
See also: GridParity expands its range of semi-transparent modules
This is where agriphotovoltaics comes into play. Similar to berry and fruit cultivation, the system can protect against hail, heavy rain and heat as well as mould, depending on the design. Protection against night frost is also usually provided.
Reducing evaporation
Another major advantage is the low evaporation and thus lower water consumption, explains Merkle. This is because Gridparity can integrate drip irrigation into the systems with little additional effort. This actually allows a profit from rainwater to be stored. "The use of sprays can also be reduced by up to 80%," Erich Merkle reports on his empirical values from pome fruit cultivation.
Adapting to the crop rows
Gridparity digitally lays out the plants based on the already existing or planned row and plant spacing as well as according to the terrain profiles. This is an advantage in vineyards. This is because vines are usually planted at close distances. "This means that the agriphotovoltaics can be adapted very well to the plant rows, so that a relatively large density of the photovoltaic system can be achieved," explains Erich Merkle.
Sufficient sunlight for the grapes
However, the vines not only need protection from the weather, but also plenty of light. That's why Gridparity builds the plants in an open design exclusively with semi-transparent solar modules that let 70 to 80 per cent of the sunlight through to the grapes. "This corresponds to the amount of light that is also achieved under protective foil tarpaulins," says Merkle. "Given the sharp increase in light intensity due to climate change, this is sufficient for most vines."
Also interesting: Agri-PV still has several hurdles to overcome
Vine growers consume electricity themselves
The advantage over the films used so far, as in berry and fruit cultivation, is that climate protection for the vines is more permanent and pays for itself within a few years. This is because the high electricity prices in relation to the electricity production costs of the agriphotovoltaics system of only about five cents per kilowatt hour mean that the winegrower can save a lot of money. "In most cases, the electricity can be used directly in the winery for the operation of technical equipment, vehicles such as electrically driven tractors and cooling systems," says Erich Merkle, outlining the possibilities of self-consumption. (su/mfo)