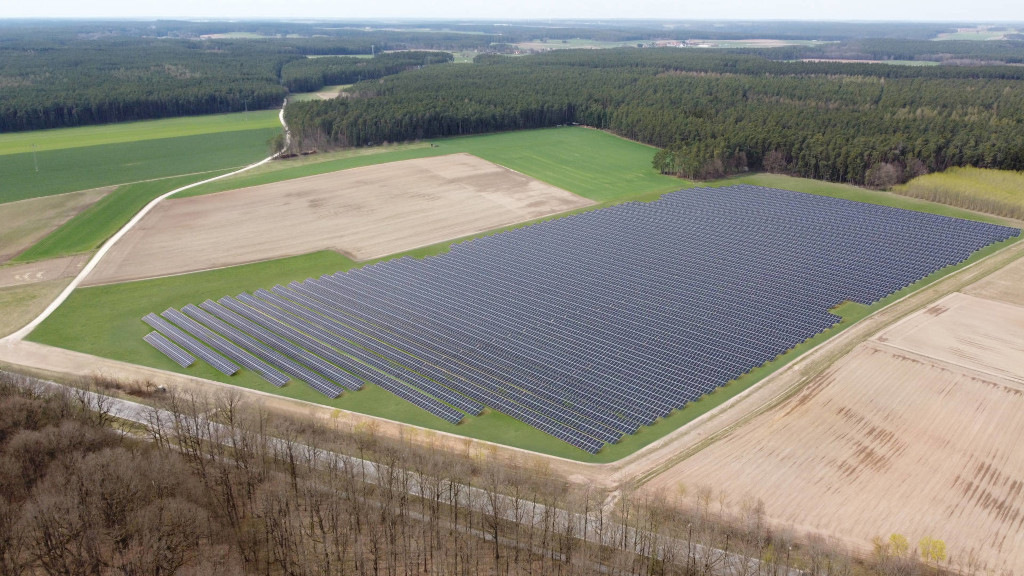 The automotive and industrial supplier Schaeffler, headquartered in Herzogenaurach, wants to have completely climate-neutral production from 2030. To this end, the company is building up a portfolio of its own green electricity plants. These are to cover at least 25 per cent of the electricity consumption of the production facilities that Schaffler operates in many countries around the world.
11,000 megawatt hours of solar power per year
This is why Schaeffler bought the Kammerstein solar park, just 35 kilometres south of Herzogenaurach, from Baywa r.e.. There, the solar project planners have erected a total of 15,400 solar modules on an area of 10.7 hectares. This gives the plant an output of 9.9 megawatts. The generator has been connected to the grid since May 2022 and produces around 11,000 megawatt hours of solar power per year.
See also: BYD converts its automotive headquarters to zero carbon
Schaeffler uses all of this in its own production – virtual, of course. This means that the electricity Schaeffler draws from the grid in Herzogenaurach is fed into the solar park in Kammerstein. To ensure that everything works well, Baywa r.e. continues to provide operational management and maintenance services.
Consistently pursuing sustainability goals
In this way, the plant can at least cover two per cent of the immense electricity requirements of Schaeffler's sites. Nevertheless, it is an important project for the company. "The acquisition of the photovoltaic park in Kammerstein is another implementation success as part of our sustainability roadmap, which we are consistently and successfully pursuing," explains Klaus Rosenfeld, Chairman of the Schaeffler Executive Board.
Also interesting: Aptera Motors to use Maxeon as their solar cell supplier
"We are in the crucial decade for achieving the 1.5 degree target and companies like Schaeffler play a central role here," adds Matthias Taft, Chairman of the Board of Baywa r.e. "One of Baywa r.e.'s key concerns is to advance the energy transition in companies of all sizes with customised energy solutions. We are therefore pleased to support Schaeffler in its sustainability goals and together we are making an active contribution to meeting global climate targets through projects such as the Kammerstein solar park."
Biodiversity protected
But it is not only Schaeffler's self-sufficiency that makes the solar park a special project. This is because Baywa r.e. has implemented compensatory and replacement measures to promote local biodiversity, such as breeding birds and wild bees, on part of the project's total area. In addition, local citizens were able to participate in the solar park through crowdfunding with a total sum of more than 220,000 euros. (su/mfo)