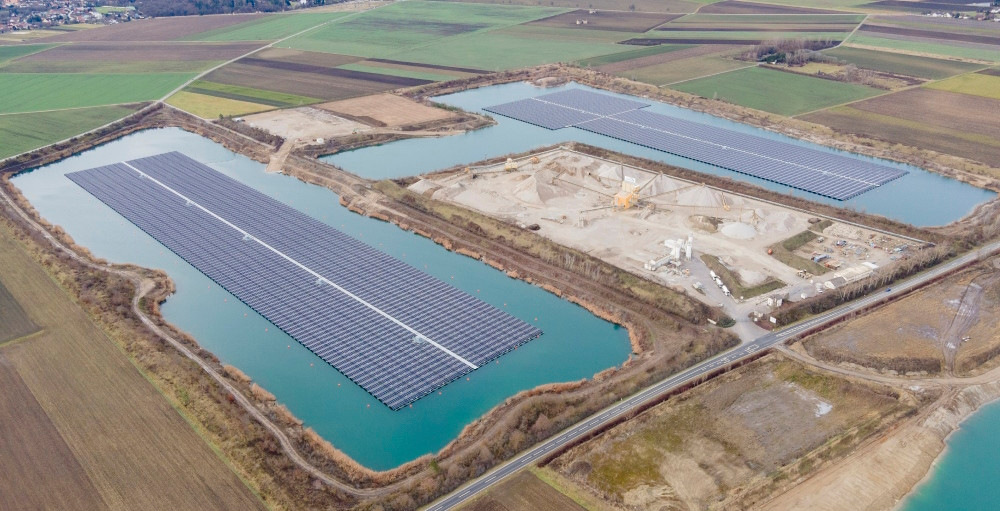 The plant is the largest of its kind in Austria and the fourth largest floating PV plant in Europe, following three projects in the Netherlands that were also built by BayWa r.e. The innovative application makes it possible to generate green electricity on previously unused bodies of water.
The approximately 14-hectare floating PV plant in Grafenwörth is located on two lakes of a former sand and gravel pit. The solar park will produce 26,700 MWh of green electricity per year and can thus supply around 7,500 Austrian households with green energy. The total of 45,304 solar modules were installed in just ten weeks.
Further improvements of the system – fast installation
Benedikt Ortmann, Global Director of Solar Projects at BayWa r.e.: "We are in the crucial decade in the fight against climate change. As the market leader for floating PV, we see the great potential of this application for the energy transition. We are using it to create added value for otherwise unused water areas and want to establish it in other regions around the world. In the turnkey floating PV project in Grafenwörth, we have further improved the systems already successfully implemented in the Netherlands. Together with EVN and our Austrian subsidiary Ecowind, we were able to install the system in record time – without compromising on environmental protection. Biodiversity and sustainability are key issues for us in all floating PV projects."
Also interesting: Cooperation for offshore solar projects
To ensure that the turbine integrates optimally into the surrounding ecosystem, regular surveys of the fish population as well as the local dragonfly fauna will continue to be carried out over the next few years.
15 PV floating plants with more than 230 MW installed
Johann Janker, Managing Director at Ecowind: "In Grafenwörth, the challenge was to establish a permit procedure for a new PV application in Austria and to ensure safe construction – which we succeeded in doing even with a height difference of 7 m between the mounting surface and the water. The advantages of floating PV are not only quick installation and easy maintenance, but also higher electricity yield due to the cooling effect of the water – making the technology very attractive for property owners of unused water bodies."
With the project in Grafenwörth, BayWa r.e. has now built a total of 15 floating PV projects worldwide with more than 230 MW.
For more information on the project and the technology, watch this video (in German). (hcn)
Did you miss that? Albania: 2 MW floating PV park to be completed by the end of the year